Packaging, Supply & Distribution Industry Barcode Label Software
Packaging Supply and Distribution of goods /products services can fasten their business process with use of barcode software to create reliable packaging labels, tags, stickers, coupons etc to help in packaging and distributing of goods. Barcode maker software is incorporated with advanced barcode label designing view which uses barcode designing objects like Pencil, Text, Line, Picture and Ellipse to build the best barcodes widely used in distribution and products packaging industries.
Packaging barcode labels in multiple (bulk) numbers can be created by the barcode software by using sophisticated series generating options that has the capability to accelerate business processes and also for user convenience providing a perfect solution to meet all packaging supplies and distribution industries needs.
Software Working Features :
Shipping barcode creator software creates packaging labels in any of the popular Linear and 2D barcodes font standards.
Using superior sequential, constant or random series generating options, barcode label maker software can create multiple barcodes useful in packaging supplies and distribution sectors.
Barcode generator software is structured with flexible font, color and image settings that will aid in making customized, user preferred packaging barcodes.
Barcode software create the best barcode labels used in Food packaging supplies, Food industry, Distribution industry, Wholesale packaging supplies, Industrial packaging and other industries.
Advanced print feature-set of the barcode label printing software offers to print multiple barcodes at the same time along with print preview functionality.
Packaging, Supply & Distribution Industry Barcode Label Software Screenshots
Click on "Color Settings" tab and set barcode header and footer font.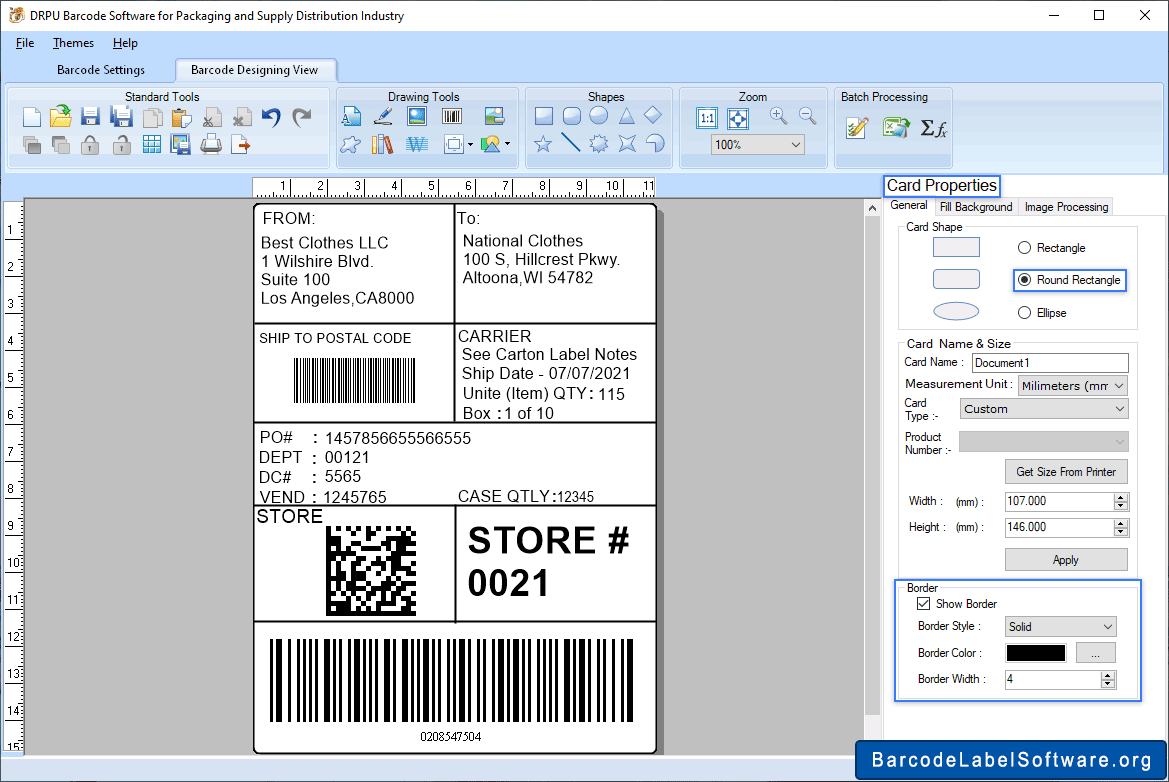 In Card Properties, select Card Shape, Card Name & Size (Height, Width) and Border.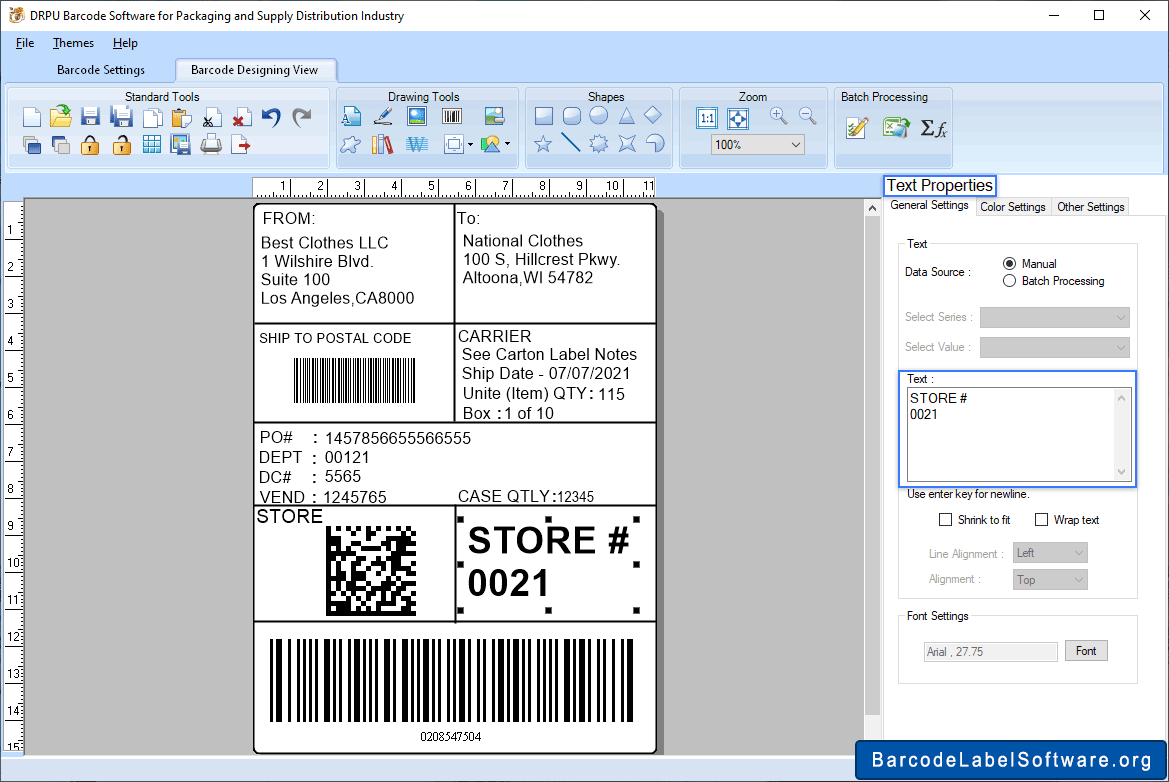 In Text Properties, add the text using Manual as shown in fig.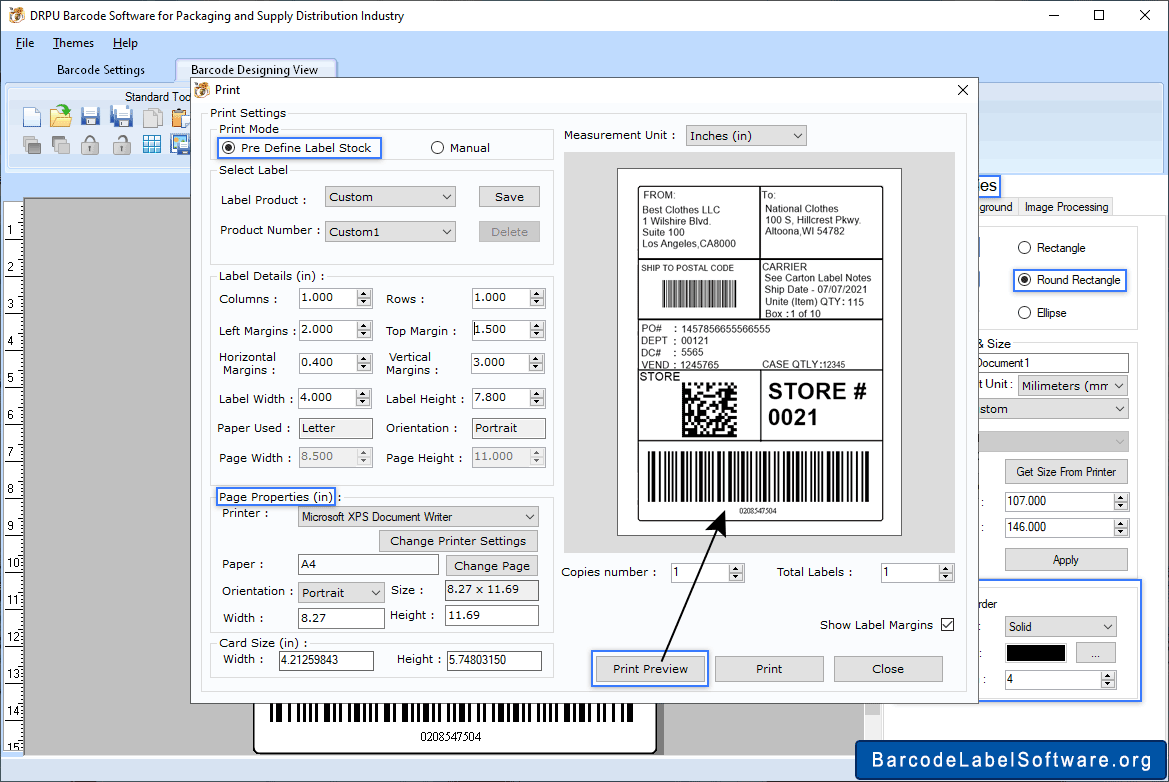 Select "Pre Define Label Stock" then enter the Label Details and click Print Preview.
Other Features :
Cost effective barcode generator software is structured with powerful scanning algorithm.
Created packaging barcodes can easily be read and printable by all commonly used barcode printers and scanners.
Barcoding system allows any user to easily understand and work upon the software.
Supports Barcode Fonts :
Linear Barcode Fonts : Coda bar, Code 128, Code 128 SET A, Code 128 SET B, Code 128 SET C, Code 39, Code 93, Code 39 Full ASCII, EAN 13, EAN 8, Industrial 2 of 5, Interleaved 2 of 5, ITF-14, LOGMARS, UCC/EAN-128, UPCA, UPCE, USS-93.
2D Barcode Fonts : Aztec, Databar, Databar Expanded, DataMatrix, MaxiCode, PDF417, QR Code.