Post Office and Bank Barcode Label Software
Postal Services is one of the important sector responsible for posting, receipt, sorting, handling, and transmission or delivery of mails. Such industries prefer to use barcode software so as to bring forth quick and effective postal as well as banking services without extra efforts. Professional postal barcode maker software is useful to craft wonderful, customized postal barcodes labels, stickers, tags and coupons using advanced font, color and image settings.
Software uses superior series generating options to build bulk quantity of barcodes for user convenience in all postal services and also banking processes. Along with wide range of printing functions, barcode generator software offers user friendly interface that presents any user to implement the product without any expert guidance.
Software Working Features :
Barcode Software works with support for major Linear and 2D barcode fonts used to create Postal and Bank Barcode labels to label postal and banking documents.
Barcode label maker software offers a GUI interface to create eye-catching postal barcodes by aid of the barcode label designing objects along with barcode designing view facility.
Postage barcode generator software generates multiple barcode lists using Sequential Series, Constant Value Series and Random Series options
Provide option to save created barcode images in different file formats including JPEG, TIFF, BMP, PNG, WMF, EMF, EXIF and GIF.
Flexible print settings of the barcode label printing software enable to print bulk numbers of barcodes at the same time along with print preview functionality.
Post Office and Bank Barcode Label Software Screenshots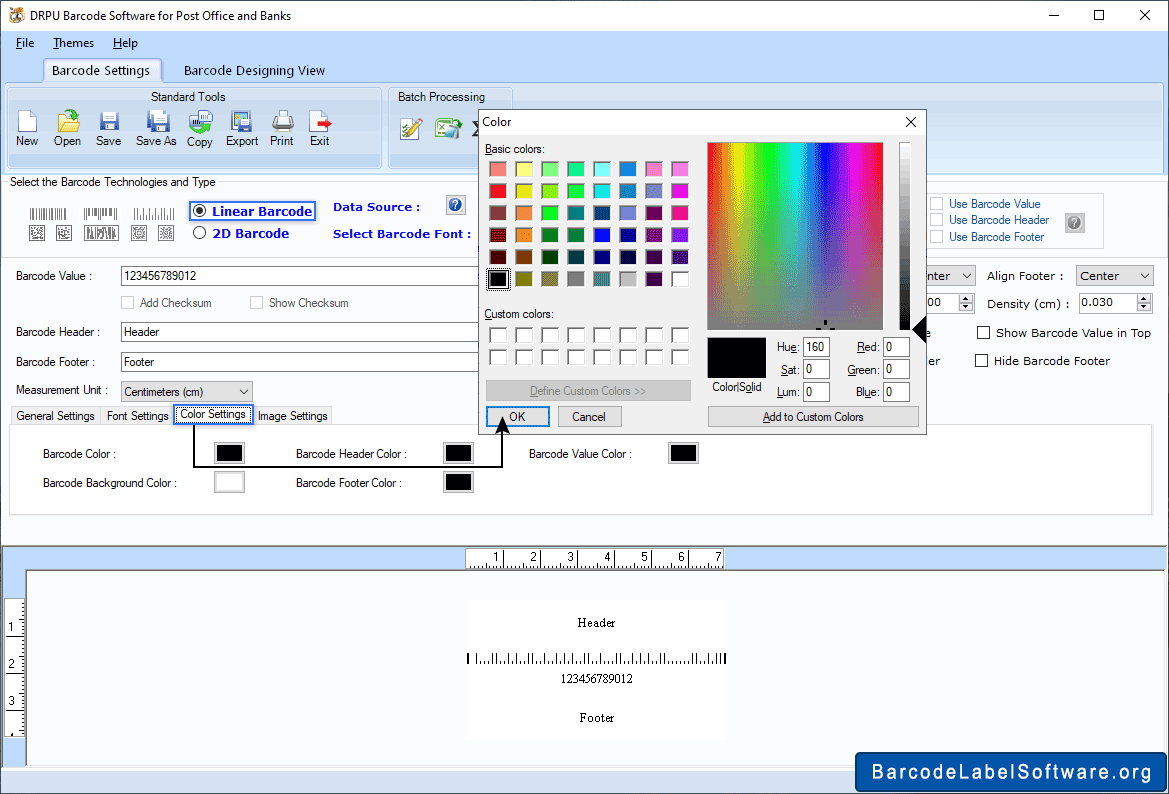 Select Linear Barcode. Click on "Color Settings" to change the color of Barcode using Basic and Custom Colors.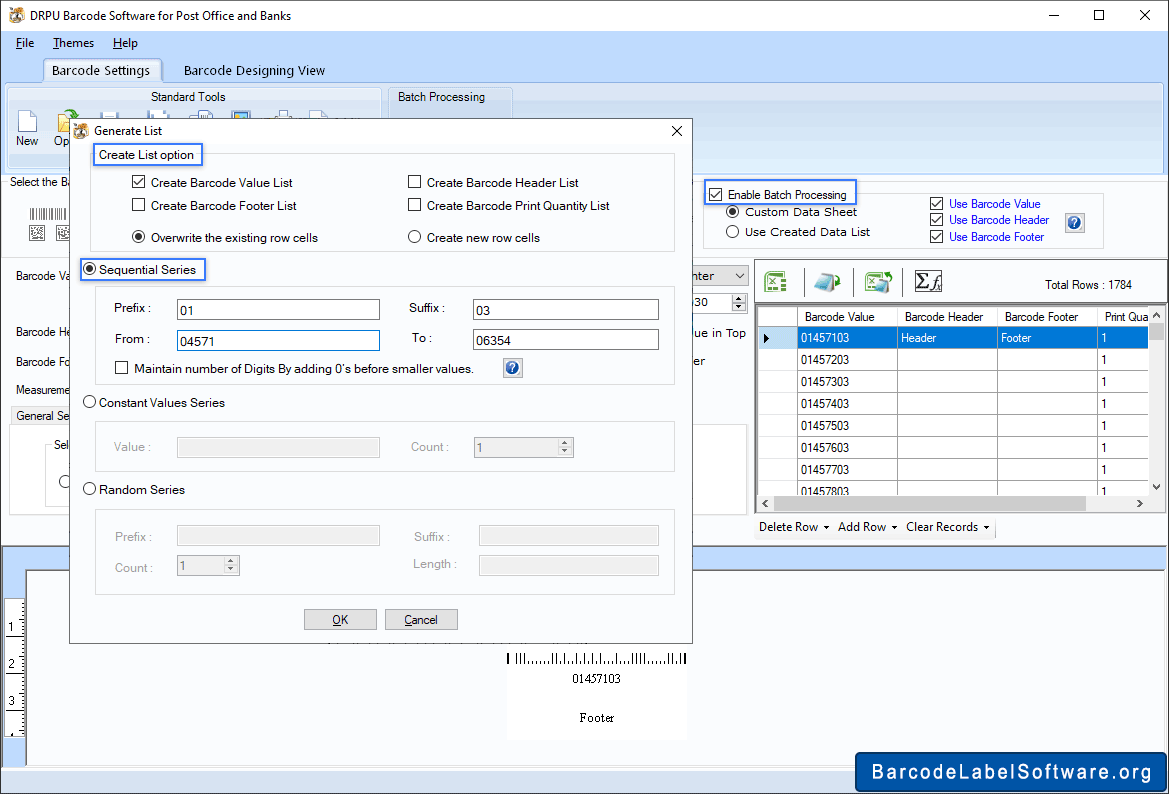 Select "Sequential Series" option to create barcode list then enter Prefix, Suffix value.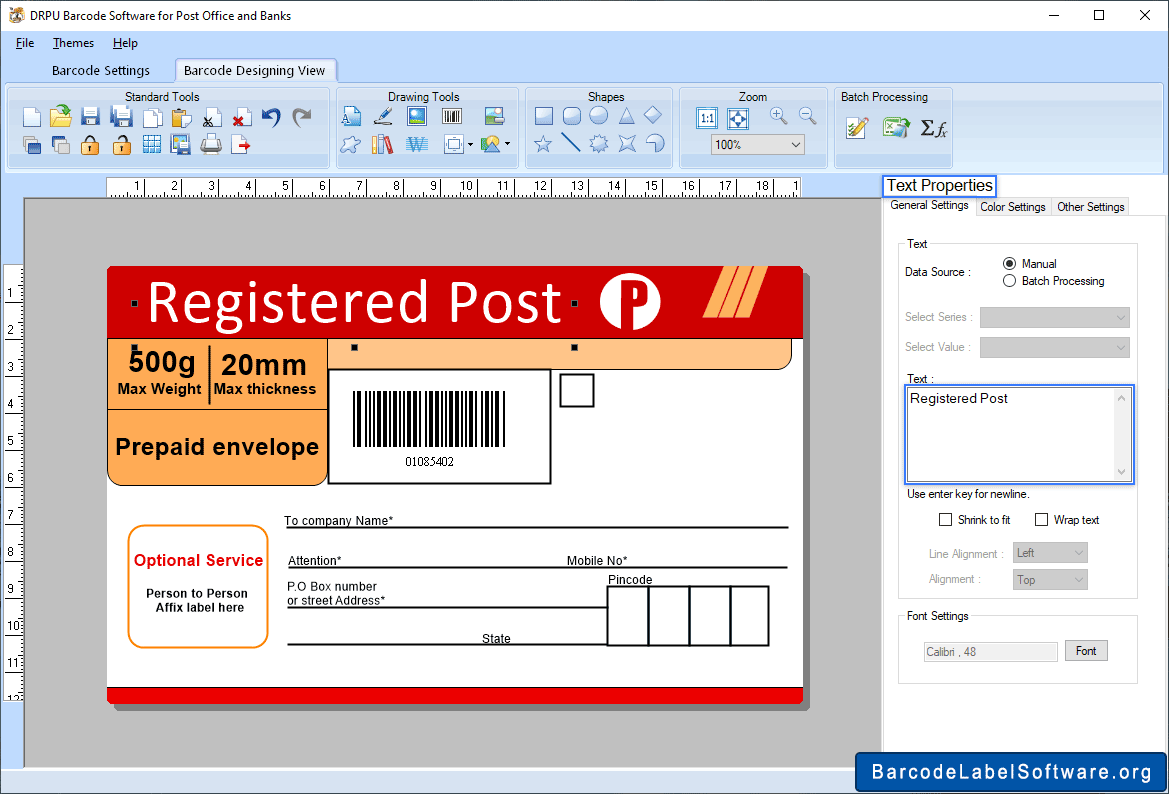 Select "General Settings" in Text Properties to change the Data Source, Font Settings, text etc.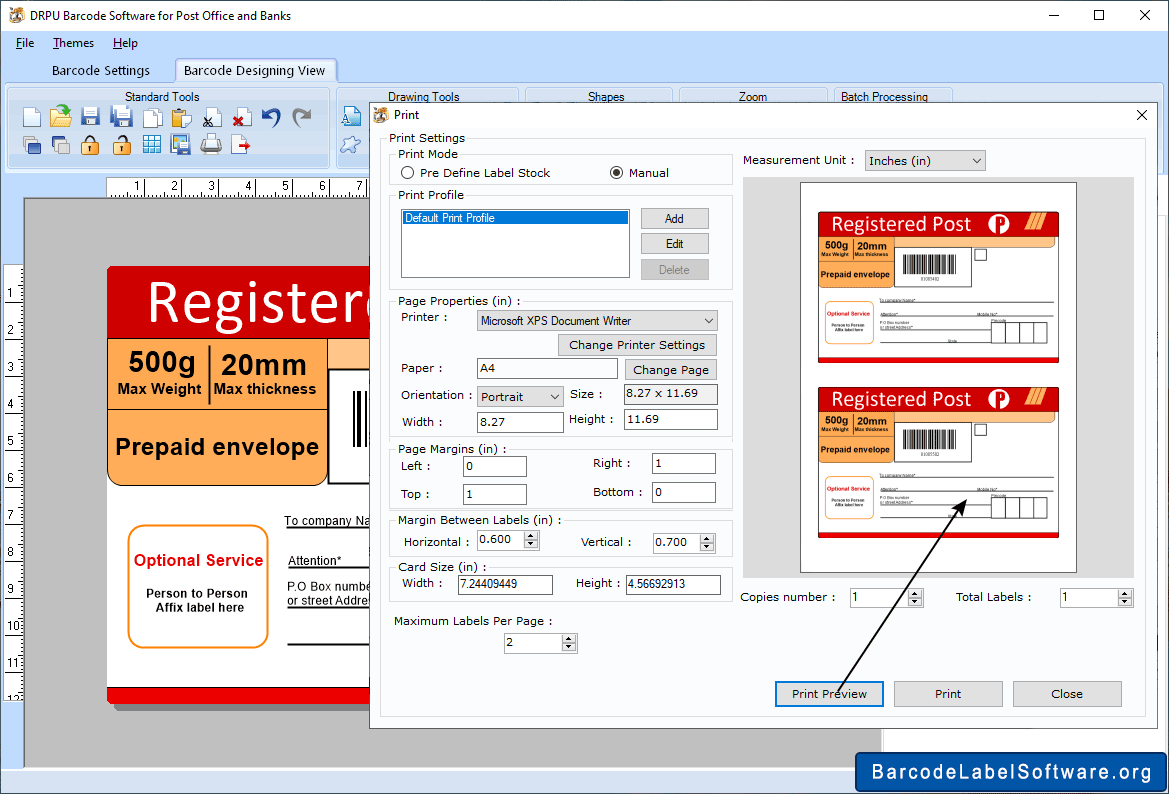 After designing the Card, change the Print Settings such as Print Mode, Label Details such as Left Margins, Top Margin etc. Click on "Print Preview".
Other Features :
Powerful scanning ability of the barcode creator software eliminates the time consuming manual data entry process.
Postal barcodes created using the barcoding system can easily be read and printed by all commonly used barcode scanners and printers.
No technical training is required by the user before working upon the product.
Easy to use environment enables user to easily understand the software workings.
Supported Barcode Fonts :
Linear Barcode Fonts : Code 11, Code 128, Code 128 SET A, Code 128 SET B, Code 128 SET C, Code 39, Code 93, Code 39 Full ASCII, ITF-14, LOGMARS, Planet, Postnet, USPS Sack Label, USPS Tray Label, USS-93.
2D Barcode Fonts : MaxiCode, MICR.