Industrial, Manufacturing and Warehousing Industry Barcode Label Software
Manufacturing industry, especially involved in the manufacturing and processing of items, and warehousing industry accounts for a significant share of the industrial sector. The use of barcode software aims to promote an efficient way of handling warehouse and manufacturing operations in a cost effective manner.
Barcode generator software provides an automated way of data collection as well as tracking of details of manufactured goods or products. Barcode creator software is designed to craft the most versatile featured barcodes having easily modifiable font, color and image settings. Barcode generator utility offers users with convenience in carrying out business processes by providing flexibility to build multiple numbers of warehousing and manufacturing sector barcodes for commercial purpose by assistance of the Sequential, Constant and Random lists generating functions.
Software Features :
Simple and easy to use barcode software aids to build the best quality warehousing and manufacturing industry barcodes.
Barcode maker software generates high-resolution, consistent warehouse barcodes labels, stickers, coupons and tags in any major Linear and 2d barcodes font standards.
Featured with a qualified barcode label printing software, integrated with advanced print feature-set which offers a wide range of printing options like-

Bulk numbers of barcodes can be printed simultaneously.
Multi copies of the same barcode image can be created instantly on a single page.
Print preview functionality offers users to view the print output sample before final printing.
Created barcodes can easily be printable by all common barcode label printers.

Bulk warehousing and manufacturing barcode labels can be created useful in all warehousing and manufacturing sectors by aid the sophisticated series generating functions.
Easily modifiable font, color and image settings offer users with the opportunity to craft eye catching warehouse barcode labels and manufacturing tags.
Industrial, Manufacturing and Warehousing Industry Barcode Label Software Screenshots
Choose 2D Barcode after selecting Barcode Settings. Now, change the Font Settings such as Font, Script etc.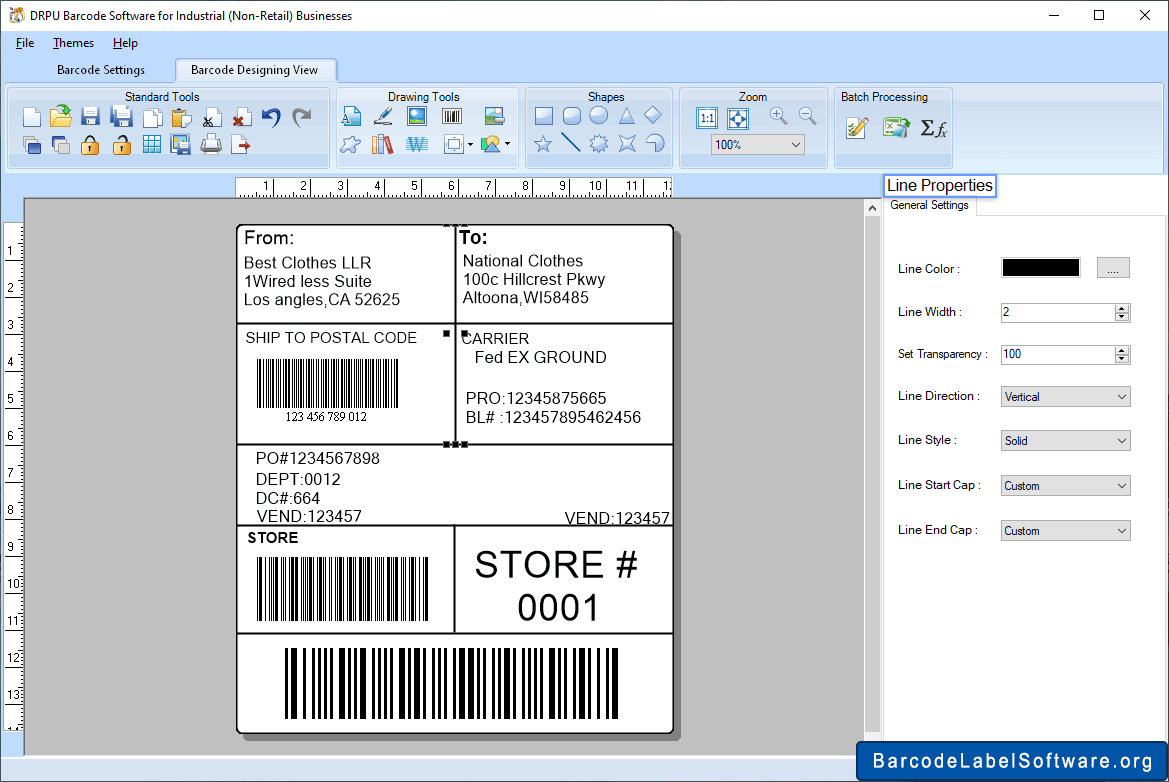 Click on "Barcode Designing View". Select General Settings and change Line Color, Line Width, Line Direction etc.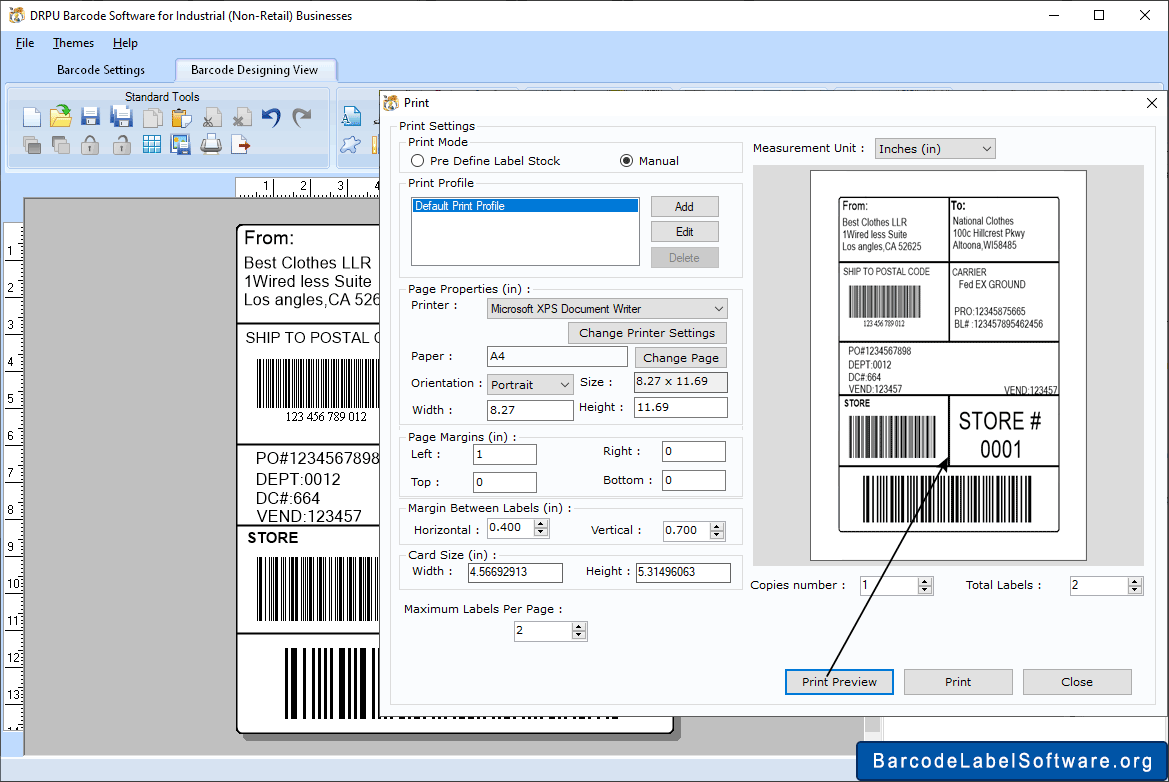 Select Pre Define Label Stock in the Print Mode, Page Properties like Paper and Orientation etc. for the view. Click on "Print Preview".
Other Features :
Retail or inventory barcodes created can easily be printed and read by all normally used barcode printers and scanners.
No technical knowledge or expert guidance is required by the user before implementing the barcode generator product.
Barcoding system eliminates the time consuming and complex manual data entry process.
Supported Barcode Fonts :
Linear Barcode Fonts : Coda bar, Code 11, Code 128, Code 128 SET A, Code 128 SET B, Code 128 SET C, Code 39, Code 93, Code 39 Full ASCII, Industrial 2 of 5, Interleaved 2 of 5, ITF-14, LOGMARS, MSIPlessey, Standard 2 of 5, Telepen, UCC/EAN-128, USS-93.
2D Barcode Fonts : Aztec, Databar, Databar Code 128, Databar Code 128 Set A, Databar Code 128 Set B, Databar Code 128 Set C, Databar Limited, Databar MicroPDF417, Databar PDF417, DataMatrix, MaxiCode, PDF417, QR Code.